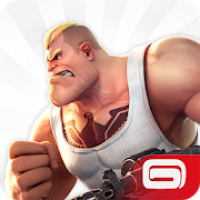 Blitz Brigade - Online FPS fun
Puan: 4.00 (Oylar: 1)
You ready for the gun show? Because Blitz Brigade is packing major heat in this over-the-top (and over budget) online FPS war fest!
Put on your game face as one of seven highly skilled classes and team up with other players to blast your enemies into the ground… Then dig 'em up so you can blast 'em again!
Enter an outlandish alternate history where the world's military leaders are actually sensible people, and the warring forces of the Axis and Allies realise that a world war would literally be the worst thing ever. So, they decide that it would be a lot less messy (and a ton more fun) if we just picked the greatest, most trigger-happy shooters and troopers from both sides to fight it out in amazing team arenas full of guns, bombs, tanks, and other crazy tools that make things go BOOM!
So why not gear up, join the fight, and feel the rush of MMO FPS combat!
*****LOCK 'N' LOAD FOR MULTIPLAYER FPS MAYHEM!*****
GIVE AN ONLINE BEATDOWN!
√ Up to 12 players can battle at the same time online for completely frantic combat games and maximum fun.
√ Catch limited-time events for new challenges, seasonal contests and loads of fun new content, including specially themed weapons and costumes!
√ Create or join a Squad to crush global opponents in MMO team games and work together towards gaining glory and rewards.
√ Voice Chat lets you plan your FPS strategy and call out to allies in the heat of battle.
PICK A CLASS FOR KICKING... BUTT
√ 7 Classes: Jump into combat as the versatile Soldier, the heavy-hitting Gunner, the supportive Medic, the precise Sniper, the cunning Stealth, the fearsome Demolisher or the tactical Engineer.
√ Customise and master each class's specialised skills to do your best in team games and counter your opponent's plan.
√ Unlock each class's Ultra Abilities, which can completely shift the tide of battle. Imagine being a Sniper that can see through walls, or a Stealth that can't be seen at all!
√ Unique taunts and kill quotes add character to your team. Because a good taunt can do more damage than almost any weapon…
√ Top off your unique look with a wide selection of hats.
LOADS OF MODES
√ Deathmatch: Race to rack up the most kills for your team in a straightforward firefight.
√ Domination: Strike key positions and take control of the battlefield while defending your positions. The ultimate test of teamwork!
√ Capture the Flag: Infiltrate the enemy stronghold, swipe the flag and (here's the tricky part) get it BACK to your base before getting blown to pieces!
√ Free-for-All: Take down the first moving thing you see... and the second... and pretty much everything after that! In this mad shooter mode, it's every person for themselves!
PACK SOME POWER
√ Roll out in a variety of armed and explosive land and air assault vehicles.
√ Pilot the Crusher—a mech made to step all over the competition!
√ Gear up with over 100 wild weapons to customise your chaos.
√ Prime your skills in challenging single-player missions that will train you for the multiplayer PvP games.
*****War Is a Heck of a Good Time!*****
For fans of free online action games, class-based multiplayer shooters, first-person shooters, army/war games, or anyone who enjoys a good MMO fight.
Enter the battlefield, get ready for the war, and enjoy hours of FPS fun!
_____________________________________________
Visit our official site at http://gmlft.co/website_EN
Check out the new blog at http://gmlft.co/central
Don't forget to follow us on social media:
Facebook: http://gmlft.co/BB_Facebook
Twitter: http://gmlft.co/SNS_TW_EN
Instagram: http://gmlft.co/BB_Instagram
YouTube: http://gmlft.co/BB_YouTube
Forum: http://gmlft.co/BB_Forum
Privacy Policy: http://www.gameloft.com/en/privacy-notice
Terms of Use: http://www.gameloft.com/en/conditions-of-use
End-User License Agreement: http://www.gameloft.com/en/eula
Değerlendirme kriteri: 1 Oylar ve 0 Kullanıcı Yorumları
Henüz inceleme eklenmemiş.
Kategorideki Diğer Uygulamalar